Sun Dial in the Shade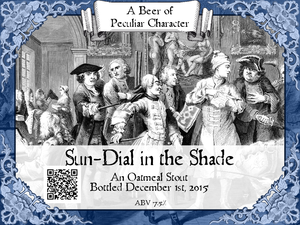 The Story of This Beer
Updated 2015-11-28
Hide not your talents. They for use were made. What's a sundial in the shade?
This is my first beer. Well, technically not. I received a Mr. Beer kit many years ago but the passion for brewing didn't take root at that time. It took hold when helping a former friend with his brewing and now has outlasted even that long lived friendship. It was the first I selected on my own and invested in.
I was, and still am, enamored on the founding fathers and was labeling my beers as "Living Proof Brewery." Naturally, I drew from quotes, especially from Benjamin Franklin, like the one above, to come up with beer names. I have always reflected on the tension between talent or skill and humility and liked the sentiment Franklin captured.
I at first thought I would make what many home brewers attempt early on, a massive, chewy, boozy stout. When I saw the recipe and the warnings about stalled fermentations and re-pitching, I revised my notion and started with a clone of Goose Island's oatmeal stout. I do add some raw sugar for a bit of a boost but the recipe has evolved to have a far more English character. I like to think early American beers would be largely indistinguishable from their counter parts across the pond.
The recipe is a bit busier than my newer recipes but I think the results speak for themselves. Despite the complexity of the grain bill, the beer has ended up well balanced with the lengthy list of malts coming through in a fairly subtle way.
Recipes
The first version of this beer was a Goose Island oatmeal stout clone with a pound of brown sugar added.
Version 2.0 - This version started to move away from the clone. I converted it from an extract beer to a partial mash, exploring the grain bill with the addition of whole grain to replace dry malt extract.
Version 3.0 - This version completes the beers change to an all grain recipe while trying to preserve things I liked in the previous recipes.
Version 4.0 - I love the earlier versions of this beer but am not so sure about the sugar addition. I hope this version will preserve the things I like about earlier iterations while still improving it. It should be a bit less dry without the sugar and hopefully by getting the oats up to a more typical fraction of the overall grain bill will capture more of the creamy mouth feel of the style.
Brew log
First batch bottled in December of 2010
Second batch bottled in January of 2012
Third batch bottled in January of 2013
Made 4th batch on 2015-11-07.