Pirate King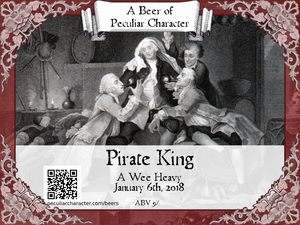 Last updated 2017-08-13
Story of this Beer
My favorite way to enjoy my Scottish 80 shilling ale, Pirate-in-Chief, is chasing it with a very nice single malt, preferably a rich, sweeter Speyside. At one point I wondered what it might be like to make a wood aged version of that beer, soaking the oak in a bit of Scotch.
These past couple of years have been marked by finally acting on ideas and promises I'd made to myself since I started brewing beer in earnest back in 2010. I made a rhubarb hefeweizen. I made a brown ale inspired by a s'more. Making an oak aged wee heavy is the last of a set of old ideas I had when working with my former brewing partner.
Most years I kick off the brewing schedule with a special, one off beer. As often as not, those beers are big and boozy, designed to age well. I made a grand cru for my 40th birthday a few years ago. In 2015, I brewed up a barley wine, a style I had wanted to try almost from the very beginning. In 2016, I started the year with a coffee porter made for a friend. 2017 will start with Pirate King, which will go down for a year. I will add in the oak for the final month and a half, just like Moderate Imperfection, my barley wine last year.
Recipe and Log