Open Access Ninja: The Brew of Law
Last modified 2022-04-02
The Story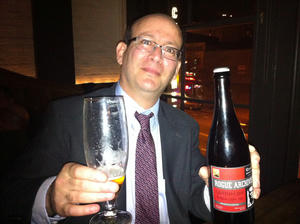 The Rogue Archivist with a bottle of namesake beer
I returned to brewing at the end of 2009 after a long spell of focusing on other things, primarily career and family. Some of the early beers I made at that time with a former brewing partner were special projects made for a particular cause or inspiration. One of those inspirations is Carl Malamud.
When Carl was campaigning to be appointed US Public Printer, we made a Belgian grand cru, Rogue Archivist. That led to volunteering on the FedFlix project with Carl then a fellowship to research, develop, and test brew Our Nation's Attic to help with efforts to persuade the Smithsonian to reverse a decision that incorrectly restricted access to public domain art.
In December of 2020, my good friend, Cory Doctorow, tweeted a reminder of Carl's tireless work advocating for open access.
Rogue archivist @carlmalamud isn't a mere open-access advocate: he is a highly specialized open-access ninja who is laser-focused on access to the law, which is weird, because you'd assume that the law is public by default.

1/ pic.twitter.com/dvTLx2SOZG

— Cory Doctorow PUNCH UP MENTALITY (@doctorow) November 30, 2020
I innocently asked what style of beer Open Access Ninja would be. Carl and I discussed on Twitter for a bit, enjoying the connection with our earlier collaborations. We continued our conversation through email and quickly realized we both were interested in turning Open Access Ninja into something more tangible. We agreed that a Czech style pale lager would be perfect.
I'd love to see something that I can drink at a cowboy bar in covid country and have the guy at the next stool go "omg, that open access stuff tastes way better than my usual Miller Lite." Something accessible, but totally different from what you're used to. Opens your eyes.

— Carl Malamud (@carlmalamud) November 30, 2020
Carl got to work with Susan B. Brown on some amazing labels. I dug into my brewing library and pulled together a recipe that will help Carl to spark many valuable conversations in just the way he imagines. I picked Triumph as a product of a USA public hop breeding program, an ingredient whose DNA literally owes to open access. I decided to marry this brand new public variety with Saaz, a classic noble hop that very much defines the pale lager style that has made Pilsen famous among beer drinkers around the world. I had been looking for an opportunity to try some malt from Mecca Grade Estate Malt, hence Pelton as the base.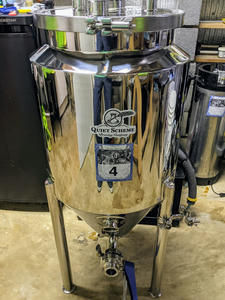 The first batch of Open Access Ninja was well timed for me. I usually brew ales, inspired by the British brewing tradition, and was pretty confident I could do this beer justice thanks to several other lagers I had designed and brewed for Dark Cloud. I was finishing up some upgrades to my pilot brewery in particular setting up my first jacketed fermenter. Open Access Ninja was be the first brew into FV4. When I acquired a second fermenter of this type, another batch of Open Access Ninja was also the first brew in that one, FV5.
Recipe and Log
I have only brewed a couple of other recipes as frequently in as short an amount of time as this one. My former brewing partner and I alternated brewing four batches of Our Nation's Attic between our home breweries. A couple of years ago, while I was working on a professional brewing course when we were originally planning to open Quiet Scheme as a commercial brewery, I brewed four batches of Undeserved Praise one after the other to test and refine my brewing skills.
I brewed the first batch of Open Access Ninja on or before 2021-02-06. Other than some yield issues resulting in a slightly smaller batch than planned, the beer turned out incredibly well. The aroma and flavor were pretty much exactly what I had in mind. The color and clarity were stellar, a testament to the new fermenter.
I brewed the second batch, to the exact same recipe, on 2021-04-03.
I brewed the third batch on 2021-05-15.
I brewed the fourth batch on 2021-06-26.