Modest Imperfection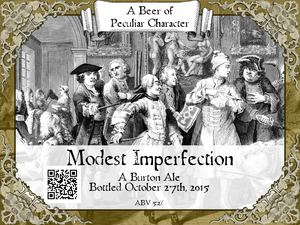 Last updated 2016-09-05
The Story of this Beer
Burton Ales are a nearly extinct style that were brewed around the same place and time as the still very popular India Pale Ale. I first encountered the style when researching a base beer for my barley wine, Moderate Imperfection. I committed to laying down that bigger beer for a year before bottling but have been dying of curiosity about the base beer.
I scaled down the barley wine recipe to what would be more typical of a Burton Ale and made a few tweaks based on my brewing experiences to date. In particular, I had added a little bit of Special B to the barley wine to get some dark fruit notes that I enjoy in a good English style barley wine. I swapped that for an equivalent about of biscuit malt. I love what that toasted malt did in my English style IPA so am hoping for similar flavor contributions here.
The name is a deliberate variation on the name of the barley wine since the two beers are so closely related.
Recipe and Log
1st recipe on brew toad. A simple reduction from my barley wine recipe down to a table beer, swapping out the dark malt for an equivalent amount of biscuit.
1st batch was brewed on 2015-09-19. The beer had a pronounced ester character, either due to temperature during fermentation or possibly from pulling it off the yeast a bit too soon. It wasn't unpleasant. Since it was bottle conditioned, it was a lot more effervescent than the big beer version. The barley wine version was the first beer I force carbonated, hence the difference.
2nd recipe was brewed on 2016-09-03 and conditioned until February of 2017. I did some more research on this beer. Turns out a table beer is actually a bit too small and these beers were often a bit hoppier than my last version. They were more akin to keeping beers or stock or old ales, too, often conditioned for at least a few months. My plan is to put put this beer down for 4-5 months, to split the difference between the barley wine expression and the last version, hopefully yielding something pleasantly in-between.