Foreign Country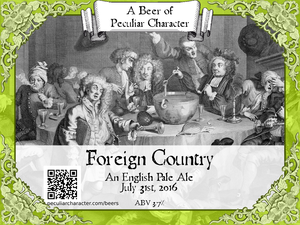 Updated 2017-08-13
The Story of this Beer
The past is a foreign country. They do things differently there. -- L.P. Hartley
If I launch a commercial brewery, it will focus largely on British styles and inspirations. This recipe is the 2nd I came up with to fill out a notional roster, the first being my mild. For the mild, I read David Sutula's book in the Classic Beer Style Series from Brewers Publications. For the bitter, I read Terry Foster's book in the same series on pale ale.
The quote was from the opening of one of the early chapters in the book. It struck me that in doing a lot more research and reading on styles and history of beer, I was very much exploring foreign countries. One could even say I was importing my recipes from those places distanced from us in time, trying to find some of what made these styles distinctive and attractive over the generations.
Recipe
1st version is a pretty middle of the road formulation. Not sure what I will tweak in the future, if anything.
Brew log
1st batch was kegged on 2016-07-23. The final gravity was a touch high, yielding a barely sweeter beer than planned. The finished beer was supposed to be 4.2% ABV but finished at 4.1% ABV. I think the difference in finish is that the secondary fermentation was a bit cooler than it should have been, despite it being a very warm time of year. The flavor is great, reminiscent of my IPA but much more drinkable. The water salts help, making the finish nice and clean so that the initial bitterness fades quickly. The color also reminds me of the IPA but is much lighter. Again, the beer is pleasingly bright due both to kettle and keg fining.
After making a variant of this recipe with rye, I re-thought adding this beer to my regular rotation. The rye bitter has taken its place as one of my Summer beers.