For the Win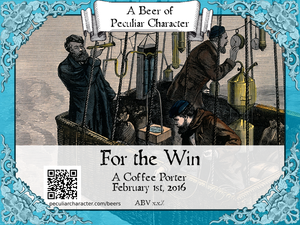 Update 2016-01-02
Some years back, I collaborated on a beer in honor of a mentor and inspiration of mine, Carl Malamud. That beer was made twice, one of the 2nd batch recently made its way into the hands of a friend of mine, Cory Doctorow, who shared a photo of the bottle.
That sparked a conversation and some reflection on my part. The result was the idea to brew more beers in honor of the work of friends whose work I admire. Cory seemed like a great person to start of with.
The recipe of course had to feature coffee. The plan is to feature locally sourced, amazing coffee. I plan on using Chesapeake for the first batch, then we'll see. As part of my ongoing brewing research, I heard a commercial craft brewer claim that the best way to utilize coffee is to add it, whole bean, to the secondary. I plan to do just that, spiking this porter with a half or whole pound of fresh beans.
The label is in keeping with my recent series of designs. Since the subject of this beer is not me, I swapped out the Hogarth engraving I use for my other beers with a public domain image I found, an engraving of some gentlemen in a hot air balloon. It is my meager reference to a wonderful homage to Cory in xkcd. I don't normally brew beer in a red cape and googles in a high altitude balloon but I may have done that for this one. (Not really.)
Recipes
The first version of this recipe was another original creation based largely on some historical research and reading. Not surprisingly, it ended up pretty close to version 4 of my stout recipe, just dropping out the black malt and roasted barley and instead using some crystal and chocolate malts.
Brew Log