First Citizen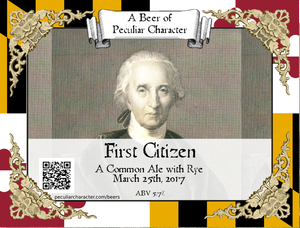 Last update 2017-03-24
Story of this Beer
This was the first recipe I formulated to use Dark Cloud Malthouse's 6-row barley malt. Kentucky Common is one of the few styles I know that explicitly calls for 6-row. Generally, this variety of malt is a bit rougher than 2-row though combining it with corn is supposed to produce some very drinkable beers.
I wanted to try to give this beer a Maryland twist, given the origin of the base malt. The state used to be known for growing rye, before tobacco took over as a cash crop. Using rye felt like a great way to bring another element of local pride into the beer.
The name comes from local founding father, Charles Carroll. Writing early in his political career, he took the pen name, First Citizen. Carroll is still honored through many place names in the state, not the least of which an eponymous county. I like how the name bridges between my usual inspirations and something distinctive to my adopted home state.
Recipe and Log
I took a Kentucky Common as my base. I had been reading about the style. Early American brewer's developed it, among others, to make best use of 6-row, the barley farmers at the time were best able to grow, and corn, an ingredient that originally had a much better place in brewing than in today's modern adjunct lagers. I brewed this beer on 2017-02-25 for the first time.