Brimstone Hill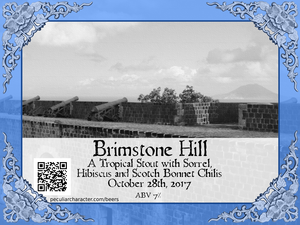 Updated on 2017-08-13
The picture from the fort used in the label was taken by Martin Falbisoner and is used in a CC-BY-SA 4.0 license. The label art is available under the same license, contact me if you want the original source files.
The Story of this Beer
When I was very young, my dad used to take the family to little islands all over the British Virgin Islands. He was stationed in the Caribbean while he was in the Navy before I was born. He knew all these amazing out of the way places. One of my first memories was some beach party during a day trip to a smaller island. I distinctly remember Dad giving me a sip of some green bottle beer, Heineken or Carlsberg. I didn't know what to make of it but the sense memory has stayed with me all this time.
When I was older, working for his small company as a teenager, I traveled with him for work all over the British West Indies. Dad introducing me to the local beers, Carib, Kalik and Red Stripe, is another key contribution to my lifelong love of beer. Guinness was one of my aspirational beers at the time. One of their worldwide breweries was in the Caribbean, they also made Dragon Stout locally.
The trip to St. Kitts and Nevis was one of my favorites. I discovered sorrel punch and how tasty it was with rum while staying in a former plantation on Nevis. One of the few carnivales I got to attend was in St. Kitts. We took a memorable tour of Brimstone Hill, a star fort that the British apparently thought was impregnable, so much so that when it fell, that was a key moment in the American revolution.
We were enjoying beers at the base of the hill leading up into the fort proper. I foolishly was sipping a Guinness. Our tour was called and we had to hustle to catch up. Despite chugging the beer, I suffered no ill effect and enjoyed learning about this fort, years before I had similar experiences of Ft. McHenry here in Baltimore.
I wanted to make a beer in honor of my dad, inspired by those experiences. I told him about it while visiting last Winter. My idea then was a tropical stout with sorrel, something to evoke the memory of the local stout and sorrel punch. He suggested adding Scotch bonnet chilis. Enjoying the different jerk spice mixes from all over the islands was another fond part of those times. His suggestion made perfect sense and led directly to this recipe.
Recipe and Log
The recipe is based on my research of a tropical stout and my experiences infusing spices into spirits for my brown ale and the braggot I made in 2016. All the base malt for this beer was grown and malted not thirty minutes from my house. The rum I used to instill the spices was made on the eastern shore of Maryland.