Best Interest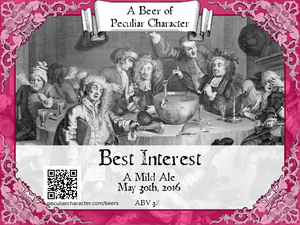 Updated 2020-05-15
An investment in knowledge pays the best interest. -- Benjamin Franklin
As I have been thinking about the possibility of starting a commercial brewery, I have been pondering themes and concepts. Far and away the single best inspiration in my brewing has been British beer. I figured a mild ale would be an excellent addition to develop, as well as yet another historic style like the burton ale I made last year, that isn't all that common any more.
In many ways this beer, like the last few, represents the latest dividends from my investment in time, practice, and research. I thought this Franklin quote in particular was an apt source for the name as such.
Recipe and Log
The first version of this recipe was another original creation based largely on some historical research and reading. I relied heavily on David Sutula's "Mild Ale", especially the sidebar on home roasting malt. Making the amber and brown malts myself from my base malt will be an experiment.
I made the first batch of this beer on 2016-04-16. It was one of the first beers I made using my plate chiller, before adding a 2nd pump and a hop back. It was a struggle to finish and came up to only about 2.5 gallons. The beer was a bit more bitter than I intended but absolutely brilliant in the glass. The malt character was a little muddled, I don't think it fully attenuated or had quite enough starting sugar. I intended to make some water adjustments next time to try to enhance the malt character as well as apply everything I learned from the first attempt to get closer to my idea.
I made the 2nd batch of this beer, close to the same recipe, as planned in March of 2017. The brew day went so much better for a year of practice. I am not sure about the recipe and may push it around a little more next time.
I brewed a 3rd batch of this beer Spring of 2018. I substituted the homemade amber and brown malts with some trial malts from Dark Cloud. Trials 3 and 6 worked wonderfully with this recipe. I hope at some point they are able to reproduce these trials. I was better satisfied with this batch and still hope to continue improving it.
I did not brew this beer in 2019 as I was doing my four batch experiment with my best bitter around the time I usually brew this one, one of my Spring recipes.
I brewed a 4th batch of this beer Spring of 2020. I returned to the home roasted amber and brown malts. This was the first beer I brewed with my new sanitary fittings and steam condenser.